WATERING GUIDE
Watering is the most essential part of the process for successfully establishing newly planted trees & shrubs. During and after planting, all plant material should be thoroughly watered on a regular basis . If plant material is not installed right away, it will need to be checked for water daily. NEVER rely on rainfall or lawn irrigation and a void overhead watering whenever possible, as this can lead to foliage problems.
…
To water properly, lay a hose in the basin (the tamped – down area around your plant) and turn the water on to a trickle, about the size of your little finger.
The water should run from 30 minutes to 3 hours depending on the size of the root ball. Be sure to water the root ball, as well as the surrounding soil area.
…
Watering newly installed plants should be done on a regular basis, however NOT every day. Between waterings, the soil should be allowed to dry down 1-2 inches. This may take several days and will be weather dependent. If it is sunny, windy and hot, you will need to water more frequently than if the weather is cloudy and cool. The only sure way to tell if your plant needs water is to stick your finger in the soil. If the soil has dried down 1-2 inches, it is time to water again. Be careful not to over-water, as this can lead to root rot and the eventual collapse of the plant.
…
Plants will need to be irrigated until they are fully established, which may take anywhere from 1-5 years. After a plant's first year, the frequency that you will need to irrigate decreases but the duration should stay the same. Remember that larger plants require more water and will take longer to get established.
…
Each watering should be deep and thorough. Watering should take place up until the ground freezes and start again as soon as the snow thaws in the late winter/early spring. The winters can be challenging for newly installed plants and watering as soon as possible after winter is often the difference between a plant thriving and dying.
…
As plants start to become more established, water the drip line area (The area just beyond the reach of the crown) which will encourage roots to grow out into the surrounding soil.
…
We also recommend 3 applications of Root Stimulator, each 1 week apart. Start -N-Grow or Bio-Tone is the perfect complement fertilizer and is easy to apply. If you have further questions, please call us at 603-886-5200.
Planting Guide
Plant Warranty
COUNTRYBROOK FARMS will warranty to the original purchaser the survival of trees and shrubs for a full three (3) months from the date of purchase at 100% of the purchase price of that plant. Our warranty is limited to replacement of the plant or a store credit in the amount of the purchase price of the plant material, but not a refund in the amount of the purchase price. The cost of labor and delivery are not covered under this warranty.  We recommend our customers purchase Root Stimulator and Start-n-Grow fertilizer at planting time to help ensure the successful establishment of the newly planted material.
…
This warranty does not cover the following: Annuals, perennials, vegetables, herbs, hanging baskets, fruit trees, roses, sod or vines.  There is no warranty in case of damage due to abnormal weather, insects, disease, negligence or abuse, branch dieback or breakage on your property, failure to blossom, winter damage or other acts of nature that we cannot control. Plants which die during summer due to lack of water caused by water bans or other watering practices are not covered under this warranty. We do not warranty transplanted plant material or trees and shrubs sold at 40% off or more or final sale items. This warranty is void without a receipt or without any record in our database.  DO NOT DIG UP YOUR PLANTS UNLESS INSTRUCTED BY COUNTRYBROOK.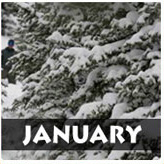 Garden Tips - January
Brush snow from ornamental trees and evergreens as soon as possible after a storm. Use a broom in an upward, sweeping motion. Serious damage may be caused by heavy snow or ice accumulating on the branches. Remember to do your second application of WiltPruf around this time when the temperature is above 40ᵒF and let it dry for 24 hours. This will help to protect your valuable plants from our harsh New England Winters. If you have some time this winter, paint the handles of your garden tools red or orange. This will preserve the wood and make the tools easier to locate next summer when you lay them down in the garden or lawn.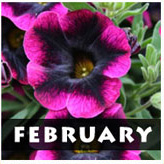 Garden Tips - February
Houseplants with large leaves and smooth foliage such as philodendrons, dracaena and rubber plants benefit from having their leaves washed to remove dust and grime. Try using Plant Leafshine by Fertilome to easily clean and protect the leaves of your precious houseplants. When using salt to melt ice on walks and driveways, spread it carefully to avoid damage to nearby shrubs and plants; consider usingQik Joe Ice Melt instead. Qik JOE instant ice melt is made of 100% calcium chloride pellets. Professional strength heat generating ice melt pellets that generate heat on contact. Melts ice & snow down to temperatures of -25ᵒF without leaving white residue. Qik Joe not harm concrete, grass, shrubs, and plants when use as directed. You'll use 75% less per application as compared to other ice melting products! Don't forget to turn your home compost pile if you can!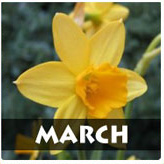 Garden Tips - March
Spring is right around the corner! Come and check out our collection of Page's Seeds. Plan your vegetable garden on graph paper. Remember to rotate crops just like the farmers do. Tomatoes and peppers use many nutrients from the soil and should be moved from year to year to prevent mineral deficiencies. We have lots of seed starting kits to help start your gardens off right. From fiber pots to peat plugs to cell trays, we've got what you want – even soil! Start to turn your vegetable garden and add organic material so the nutrients will be available when you plant. Adding Plant Tone and Tomato Tone by Espoma now will help enhance the health of your plants and soil. Ticks are going to become very active in the next following weeks. We recommend placing Tick Tubes by Damminix around your property and in your tool shed. This will significantly cut back the tick population in your yard and reduce you& your family's risk of Lyme Disease. Place birdhouses outside this month. Clean out any existing houses for new bird families to move in. Give your houseplants another good once over with Plant Leafshine by Fertilome.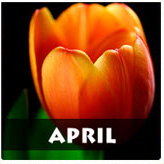 Garden Tips - April
Spring is finally here!! Time to get in the garden and get ready for another great growing season! Cut spent flowers on tulips, daffodils, hyacinths, and other spring flowering bulbs as the flower fades. Do not cut the foliage until it dies naturally. The leaves are necessary to produce food for strong bulbs for next year. Towards the end of the month is the best time to begin your 4-step lawn care program. Apply Jonathan Green's Crabgrass Preventer Plus Greenup for established lawns. If you are seeding, use Jonathan Green's Crabgrass Preventer Plus New Seeding. This will prevent crabgrass from growing while still allowing you to grow a healthy lawn from seed. If you are using an organic 4-step lawn care program, apply Jonathan Green's Organic Lawn Fertilizer if you are seeding or Jonathan Green's Organic Weed Control Plus Fertilizer to control weeds. Another product we recommend applying is Jonathan Green's Love Your Lawn – Love Your Soil. All natural and organic, Love Your Lawn-Love Your Soil stimulates soil microbes and creates a biologically healthy soil. You can grow better turf by creating better soil. Helps to loosen heavy, hard packed soil and releases trapped nutrients. Use on existing lawns and when seeding to enhance grass root mass development. Your lawn soil will become more alive and porous allowing water, air and grass roots to enter the soil more easily. Remove sticks, rocks and other debris from your lawn to prevent damaging your lawnmower or injuring yourself when it becomes time to mow. Check your lawnmower and other lawn care equipment in preparation for the coming season. Measure rainfall with a rain gauge posted near the garden so you can tell when to water. The garden needs about one inch of rain per week from April to October. Opening Day at Fenway is a great rule of thumb to remember when to prune your roses.Prune off any dead wood and weak stems to encourage strong plants and beautiful blooms. If you are pruning any other flowering trees or shrubs in your garden, be sure to do it right after they are done blooming. Pruning at the wrong time can mean no blooms for the following season. Ticks are going to become very active in the next following weeks. If you haven't done so yet, we recommend placing Tick Tubes by Damminix around your property and in your tool shed. This will significantly cut back the tick population in your yard and reduce you & your family's risk of Lyme Disease. Apply Preen in your perennial and mulch beds to prevent any weeds from germinating this season. The less weeding to be done, the better! Having trouble growing plants or grass near the roadside? Try applying Espoma's Garden Gypsum. It will help bring soil impurities to the surface from salt damage.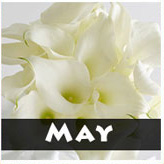 Garden Tips - May
Plant some new varieties of vegetables in your garden! Truckloads of fresh vegetable and herb plants are starting to arrive here at CountryBrook. If you have already started some plants in the ground or in containers, continue to keep an eye on nighttime temperatures. One cold night could ruin an entire crop for the season! If you haven't applied your Jonathan Green Crabgrass Preventer Plus Greenup or Organic Weed Control, now is the time! The best way to get rid of weeds in your lawn is to prevent them from starting in the first place.Treat your lawn for grubswith Jonathan Green's Grub Control. Treating for grubs now will significantly reduce your Japanese beetle population in the summer. Watch for black spot and powdery mildew on your roses. Treat your roses and perennial beds with Bayer All in One Rose & Flower Care to prevent these diseases from occurring and to protect from bug damage. Also avoid watering the leaves as this will cause disease to spread more rapidly. Bring indoor tropical plants outside for their summer vacation. Gradually get them used to the wind and sun by putting them out for just an hour or two a day and slowly increasing the time outdoors. If you have trouble remembering to water, Plant Nanny's not only will remember for you, but they'll also put empty wine bottles to good use! Mulch your plants and perennial beds to retain moisture at the roots, suppress weed growth, add organic matter to your soil and just to look nice! Place a pot of herbs as close as possible to the kitchen for easy access. Chives, parsley, oregano and mint are all ready to go out now. Basil loves hot weather, so wait a couple more weeks before putting it outside and make sure not to get the leaves wet when watering. For all new plantings, we recommend using Root Stimulator and Start-N-Grow by Fertilome to ensure easy establishment for your plants. For existing plants, use Plant Tone or Holly Tone by Espoma or Start-N-Grow. Each of these products will feed your garden for the next three months. If you have a plant that's really struggling, try using Superthrive. It's vitamins and hormones help bring almost dead plants back to life! For organic gardening, use Espoma's Bio Tone with Mycorrhiza. Mosquito Tip: place a bat house in the garden or along your wood line to attract insect-eating friends. Also try placing Mosquito Dunks in still standing water areas such as birdbaths.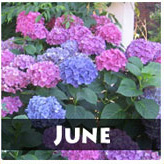 Garden Tips - June
Remove old flower heads from annual plants to keep them blooming. To keep your container plants looking beautiful, use Fertilome's 20-20-20 water soluble plant food once a week. Watch for black spot and powdery mildew on your roses. Treat your roses and perennial beds with Bayer All in One Rose & Flower Care to prevent these diseases from occurring and to protect from bug damage. Also avoid watering the leaves as this will cause disease to spread more rapidly. If you haven't fed your azaleas and rhododendrons yetnow is the time with Espoma's Holly Tone or Fertilome's water soluble Acid Loving plant food . This will increase next year's flower production. Be alert for snail and slug damage on your hostas. Leaves will have many holes, especially near the edges and a slimy trail. Thin leafed varieties are more desirable to snails and slugs than thick, puckery-leafed varieties.Use Espoma's all natural Slug Control at the first sign of damage. Give your flowers a boost with Fertilome's Blooming & Rooting water soluble fertilizer about once a month.This will provide you with a bounty of flowers for the rest of the summer. Turn your hydrangeas blue with Hi-Yield orEspoma's Soil Acidifier or pink with Espoma's Garden Lime. Cut off spent blooms to encourage new ones. Hydrangea blooms also make great dried arrangements! Time to apply the second step of your 4 step lawn care program. Jonathan Green's Weed & Feed helps control over 250 broadleaf weeds in your lawn. For the organic alternative, apply Jonathan Green's Organic Lawn Fertilizer to help rejuvenate your tired, sick lawns with a slow, gentle feeding. Promotes a healthy, thick dark-green turf over time that can be used spring, summer and fall. Birds love blueberries, raspberries, and strawberries as much as we do! Protect your berries with Bird-X Netting before they ripen and are eaten by the birds.
Garden Tips - July
Check often to see if your containers are receiving adequate water. As the temperatures rise, plants will need more water. Use Soil Moist Spikes Plus to ensure your plants won't dry out. They also contain a slow release 5-5-5 fertilizer. Be on the lookout for Japanese beetles, especially on roses, Rose of Sharon, birch, and plum trees. Use Fertilome's Triple Action Plus, Neem or Bayer's All in One Rose & Flower Care. For larger plants, use Fertilome's Systemic Insect Drench. Chipmunks, groundhogs and deer have probably already begun nibbling at your garden. Try using Bobbex or Natural Guard Organic Animal Repellant to keep them away. Fertilizing at this time of year can be very tricky. If you are fertilizing perennials, trees or shrubs, make sure it's organic or very low in nitrogen. Fertilizing with too much nitrogen at this time of year can damage your plants by making them more susceptible to insect and summer damage. Continue deep watering once a week for your new plantings right through to the fall, until the ground freezes. Remember, deep watering encourages deep root growth. Deep root growth makes for a healthier, happier plant. Soaker hoses and timers or Treegators make things especially easy to maintain. Mid to late July is the best time to apply the third step in your 4 step lawn care program. Jonathan Green's Summer Survival provides a gentle feeding for your lawn while controlling a wide spectrum of insect pests including chinch bugs, armyworms ants, fleas and even ticks! For an organic lawn program, apply Jonathan Green's Organic Lawn Fertilizer.
Garden Tips - August
Pick zucchini and summer squash every day or two to keep the plants producing. You may notice a dust or talcum-like powder on your roses, lilacs or phlox this month. Applying a fungicide, such as Natural Guard's Copper Soap or Neem will aid in the reduction of this powdery mildew. Water, water, water! Continue deep watering all of your new plantings once a week at a slow trickle for 30 minutes to an hour, depending on the size of the rootball.Water your garden early in the day so plants can absorb the moisture before the hot sun dries the soil. Early watering also insures that the foliage dries before night. Wet foliage at night increases susceptibility to fungus diseases and insects. Don't forget to sit back, relax & enjoy your garden!!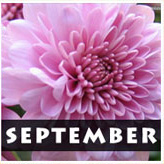 Garden Tips - September
Fall is an excellent time to finish any landscape projects that were put off because of the heat. In fact, fall is the best time of year to plant! With cooler days and steady nighttime temperatures, your plants will ease right in. If you didn't treat your lawn for grubs in the spring, apply Jonathan Green's Grub Control now. Japanese beetles are starting to go back in to the soil and lay their eggs. Prevention is the best control! Resist the urge to trim azaleas, rhododendrons, lilacs, forsythias and other early spring blooming shrubs. They have already set their flower buds for next year's bloom. Pruning them heavily now will mean no blooms next spring. Bring in houseplants before they start getting used to the cooler weather. Flowering kale, cabbage, and fall mums may be planted now to give a little color to the garden when summer flowers have faded away. To set big, beautiful blooms on hydrangeas and other flowering shrubs, fertilize with super phosphate or Fertilome's Blooming & Rooting now.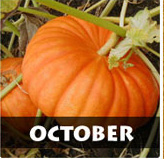 Garden Tips - October
Map out open spaces in your garden to plant spring flowering bulbs. Tulips, daffodils, allium and many more bulbs are now available here at CountryBrook. Try planting hyacinth bulbs now and their soft perfume will fill the spring air. Varieties such as Woodstock, White Pearl, Sky Jacket and Blue Pearl are all deer resistant and bloom in mid-spring. There is still time to plant! Stop in forsome great nursery stock markdowns. Before you put away all of your garden tools, make sure they are well greased and sanitized. Rusty, non-functioning and infectious tools are no fun to play with in the spring. If you'd like, leave the seed heads on black-eyed susans, coneflowers and ornamental grasses. Not only do they look interesting in the winter, but they'll provide food for the birds. Your lawn is hungry! Give it its last boost before winter. Fertilize with Jonathan Green's Winter Survival or Organic Lawn Fertilizer to help strengthen your lawn for winter and ensure a healthier lawn in the spring.If you're doing a fall seeding, use Jonathan Green's Crabgrass Preventer Plus New Seeding or New Seeding Lawn Fertilizer.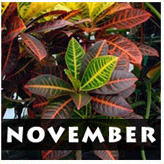 Garden Tips - November
Protect your evergreens, including holly, boxwood, azaleas, and rhododendrons from the drying winds of winter. Spray them later this month with Wilt Pruf. This provides a protective layer on the foliage that will help prevent moisture loss. Keep your valuable landscape plants from becoming a bunny buffet or deer delicacy by applying Natural Guard Organic Animal Repellant or Bobbex. To keep the animals from damaging the trunks of your young trees, wrap them with tree wrap. Finish your fall cleanup before mulching your roses and other tender plants. Make sure the first layer of soil is hardened off, usually after the first hard frost. Mulching too early can lead to critters making a cozy nest for the winter months. Remove all plant debris and diseased parts for a healthier plant in the spring. You can also spray your rose buds with Wilt Pruf for added protection. Burlap evergreens near the roadside to protect from road salt and snow damage from plows. If you can't stand the look of burlap, try using Shrub Tents. It's a much more appealing alternative to burlap and super easy to set up.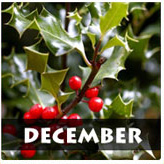 Garden Tips - December
Stop in to CountryBrook for the best selection of Christmas Trees in town. We bring in over 1,000 fresh cut Balsam & Fraser Fir Trees to choose from uniquely suspended from our pergolas for a 360⁰ view. Our barn has been transformed into a winter wonderland. Find great gift ideas, decorations and unique Christmas Tree ornaments for you, your friends and your family. We also offer yummy food samplings on weekends. We recommend using Prolong in your tree water to keep your tree fresher for longer and to help with needle retention. Check your water level daily as a heated home can dry a tree out much faster than you may think. Going away for the holidays? If you can't find a plant sitter, consider using a Plant Nanny for your houseplants. They provide your plants with adequate water while you are away and are a great way to re-use empty wine bottles. If you haven't already, be sure to put a burlap shrub frame over the plants below your roofline or wrap them with twine to prevent from splitting with fallen snow.
We are a family owned, full-service garden center with over 8 acres surrounding our 150-year-old New England style barn. Bring your whole family for a visit to see our animals & indulge with our locally made ice cream!