We are proud to announce that we carry a line of some of the finest smokers in the country! Yoder Smokers are NOT the typical barbecue pit you buy down at the local department store. These pits are designed for use at the biggest BBQ competitions, and in your own backyard where the competition can be just as stiff. Yoder Smokers construct their line of competition-grade smoker pits to last a lifetime. In fact, that's how long they are guaranteed for against burnout. So, when your neighbor's shiny polished-steel grill has burnt through and is headed for the dump, you'll still be smoking away. In other words, people who really know BBQ recognize the quality workmanship Yoder Smokers puts into their line of smoker pits, and how those "extra details" can make all the difference in making mouthwatering BBQ.
We have several smokers that we carry standard, but we also special order if you're interested in something else! Here's a list of what we regularly carry. Please note our prices reflect shipping costs to our location.
**Please call ahead to check availability***
603-886-5200
YS480 & YS640 Pellet Cookers
Yoder Pellet Smokers/Grills come standard with an easy-to-use digital control and two convenient exterior shelves. With expansive cooking surfaces-ranging from 480 to 640 square inches-combined with nearly twelve inches of headroom, there's plenty of room for anything, including beer can chickens or turkeys. The second shelf and temperature probe portalso comes standard with every smoker.The added second shelf increases cooking on the YS480 to 800 square inches and the YS640 to 1,070 square inches.There's no other pellet cooker on the market like the 480 & 640! Our Price:$1,399 & $1,699
YS640 Competition Cart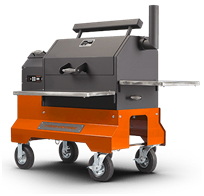 The well respected and popular YS640 is just at home on the competition circuit as it is the back yard. The cooker's main body and electronics are all the same, but when you add the competition cart and stainless steel prep shelves, it becomes even more versatile and markedly more maneuverable – perfect for someone competing at a different venue every weekend. The competition cart has 8″ pneumatic casters, two of which lock the cooker into place, and a set of tie-downs to keep it immobile in your trailer. Our Price:$2,399
The Cheyenne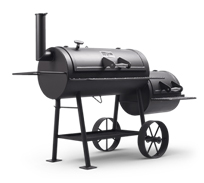 The Cheyenne moves you beyond simply grilling and into the world of slow smoking and barbecuing. The difference is this; the heat and smoke are drawn through the cooking chamber indirectly, the indirect heat is the secret to producing moist, super tender meat with that rich smoky flavor. Whether you are feeding your family or a gathering of a dozen people put the Cheyenne to work for you and be prepared to enjoy Blue Ribbon results! Our Price: $1,225
The Loaded Wichita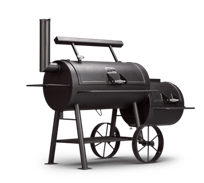 Load it up; the loaded Wichita adds three of the most popular options: cooking door counterweight, heat management plate & 2nd level slide-out shelf to maximize your cooking experience. The loaded Wichita boasts over 1600 square inches of total cooking surface for increased volume of meat and sides. Precision crafted, the Wichita's dual-damper draft control system produces professional results–regardless of your level of experience. From the backyard to large gatherings–or even competitive events–the loaded Wichita will build your reputation as the neighborhood pit-master. Our Price: $2,499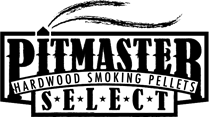 Need fuel for that new pellet smoker? We carry Pitmaster Select™ smoking pellets that are 100% hardwood with no artificial flavors or oils. Each bag contains 30% to 60% of the featured flavor wood – so if it says apple on the bag, there's apple in the bag! Don't settle for less – buy the smoking pellets specially blended for competition cookers! We carry several flavors including: Apple, Cherry, Oak, Hickory, Pecan, Mesquite, Mulberry & Maple.
Our Price: $21.50/bag or $19.35/bag when you buy 10 or more.
Please call ahead for flavor availability.


Stump Chunks was developed by four brothers in New Hampshire. Completely green and self-sustaining, Stump Chunks is 100% wood and contains absolutely no chemicals or additives. The secret to this magic is in the stump itself. It just took some clever but chilly fellows to figure out how to unleash its potential.